About Us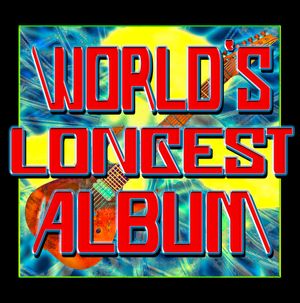 What is the World's Longest Album For Charity?
The Blast Bands' World's Longest Album is a record breaking collection of original tunes from Rick Sanford, Kris Tonner, L.D. Rogers, Robert Meadows, Dave Allen, Sherita Murphy, Sherie Murphy, Ollie Patterson along with special guests.
We're raising funds and awareness for Children's Restoration Network in Atlanta Georgia that helps homeless kids and mothers. Visit childrn.org for more info on this great charity.
What's the music like?
We're primarily a rock band but love many styles of music. The album has fiery vocal tunes, ballads, keyboard/synth grooves and dozens of rock guitar instrumentals! If you're lookin' to have some fun, this record breaking music catalog is for you!
Is this the first world record CRN and Blast Band
have worked on together?
We've had the pleasure of working with CRN on breaking the World's Longest Concert record that took place July 10th - 24th, 2010 in John's Creek Georgia. The world record included 343 bands...there's an autographed guitar signed by all who performed at the CRN office in Roswell Georgia.
Please Buy Some Music And Support A Great Cause!
Your Generosity Will Always Be Remembered!
Special Thanks To:
God Almighty for giving us music and talents to develop, L.D. Rogers, Kris Tonner, Dave Allen for the live drums tracks, Robert Meadows for jumping on board with this songwriting venture, Rick Austin for the live drum tracks, Ricky Fargo for the live drum tracks, Keith Evans for the keyboard tracks, Phil Thomson Studios, Stuart Settles Studios, Jim Boling Studios, Brian Stephens Studios, Sherita and Sherie Murphy, Ollie Patterson At Atmosphere, Cliff Kinsey, Jim Cox & all the crew at CRN, Rodney Mills, Stan Robertson, Mark Chapman, Sid Wolf, Kevin Wyglad, Duncan Elrod, John Schmitz, Dean Tomlinson, Robert Hinton Photo Design and Sonoma Wireworks for helping make this world record breaker possible!